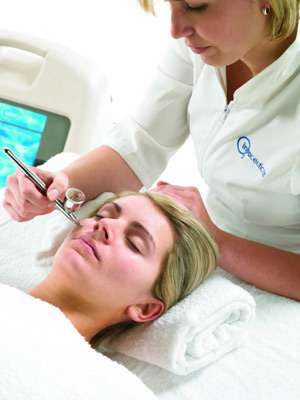 What would you say if you were offered an anti-aging facial treatment without needles or scalpel? Dubbed Intraceuticals Oxygen Infusion , the oxygen facial treatment is one of Hollywood stars' favorite beauty techniques.
Oxygen facial treatment, or oxygen infusion, is used on a regular basis by many personalities in the artistic field including Eva Longoria, Katy Perry, Justin Timberlake and Naomi Campbell, and is provided by dermatologists and plastic surgeons. . Madonna even has a pressurized oxygen jet device in each of her homes.
What is oxygen infusion?
Originally from Australia, where some of the most serious forms of skin cancer are found, this technique was first used to perform topical chemotherapy. An Australian team of biochemists then combined the medical and cosmetic sciences to develop a professional care package.
The process involves the use of hyperbaric oxygen to penetrate the skin with a low molecular weight hyaluronic acid serum packed with essential vitamins, antioxidants and amino peptides. Used with 98% pure oxygen, which ensures the penetration of the active ingredients in depth, this serum plumps and hydrates the epidermis to reduce fine lines and wrinkles. In less than an hour, the skin is revitalized and smoothed.
The advantages of the process
Designed to improve all skin types, the oxygen infusion restores hydration, firms the epidermis and reduces fine lines and wrinkles in just 40 minutes, making it a treatment of choice. Not only is this technique ideal for special events such as weddings or for a photo shoot, but it is also the ideal partner for many other treatments such as peeling, laser or microdermabrasion. It can also replace or supplement injectable treatments.
The process is non-invasive, extremely relaxing, painless and safe. What is fascinating is that Intraceuticals Oxygen Infusion Treatment has a long-term effect on cell renewal and skin regeneration.
By Marie-France Legault, 2011-09-26, The original version of this article was posted on Servicevie.com
Retour au blog